Nulab Pass
Nulab Pass is a centralized security and governance service that gives administrators full control over how the organization's users access Nulab Products - Backlog, Cacoo, and Typetalk.
It is an optional subscription service and is charged per user based on your organization's user count.
Nulab Pass offers various functions, such as:
User provisioning (coming soon)
Start a trial with Nulab Pass
To start a trial or subscribe to Nulab Pass:
Go to

nulab.com/nulabpass

and scroll to the application form section.

Fill in the

application form and submit it

. We will review your submission and provide access to the Nulab Pass trial within

3 business days

.




Information required in the application form:




- Name




Plan admin's contact name.





- Plan admin email address




Plan admin's email address.





- Company Name




The company name registered for the Nulab Products.





- Space Key




The space key is a unique ID that can be found in the Organization Profile Settings page. It is a 10-character unique ID.




Nulab Pass is charged based on per-user per month for the total number of Managed Account users in the organization. To see the number of users you're paying for, go to Organization Settings > Plans > Upgrade. It will show the total number of organization users and the total cost. To learn more about upgrading, please refer to Upgrade from trial. To inquire about Nulab Pass pricing, check out the product page or get in touch with us.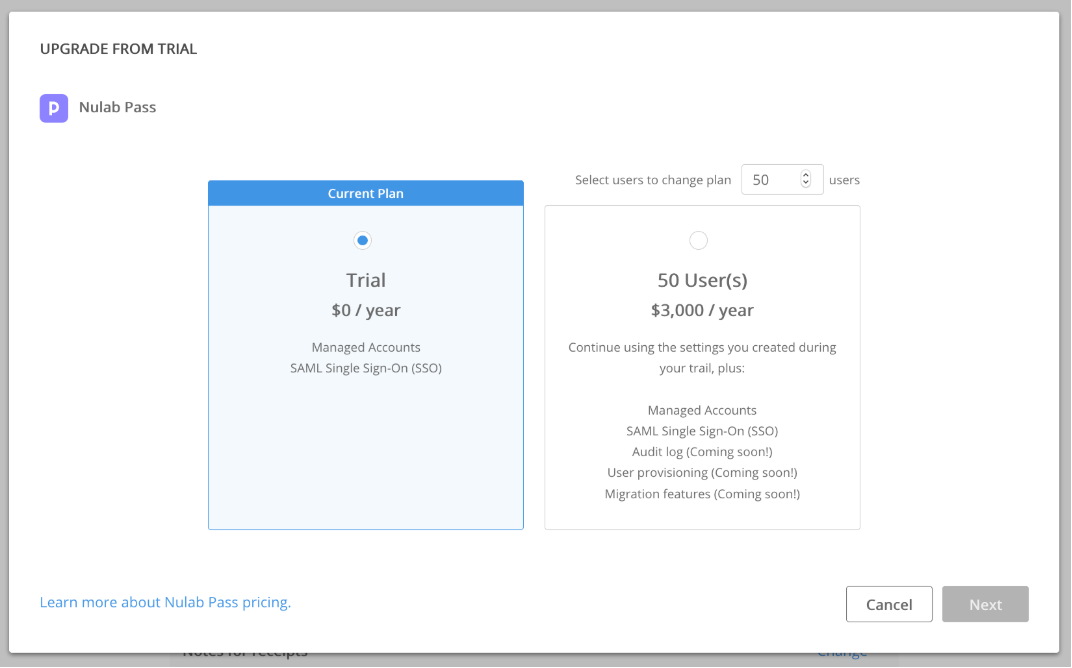 Introduction of Nulab Pass features
SAML single sign-on
With the SAML authentication function in Nulab Pass, you can set up SAML single sign-on (SSO). This allows users to log in to Nulab cloud products with Managed Account by authenticating through your organization's identity provider (IdP). SAML SSO provides a simple and secure login for your entire organization, and users can seamlessly access multiple applications with a single set of credentials
Any IdP that supports SAML 2.0 can be set up in SAML authentication. Security policies can be easily managed in your organization's IdP. Below listed IdPs are supported by Nulab Pass
Azure AD

Google Cloud Identity

OneLogin (Mobile app cannot be used when RelayState is set)

Keycloak

CloudGate UNO
Read more about setting up SAML authentication.
Managed Account
With Nulab Pass, you can create a Managed Account after verifying your organization's domain. It gives you control over how your organization access Nulab products and centrally manage users' accounts.
Managed Account only works with SAML authentication when you connect your IdP to your Nulab Organization. Therefore, Managed Account users will be required to log in via SAML.
This helps you further apply and manage user security policies in your organization's IdP.
Only accounts invited as Managed Accounts or with a Managed Account tag displayed on the member's page are considered Managed Accounts. Other accounts are considered Nulab Accounts, and administrators cannot manage or change these accounts.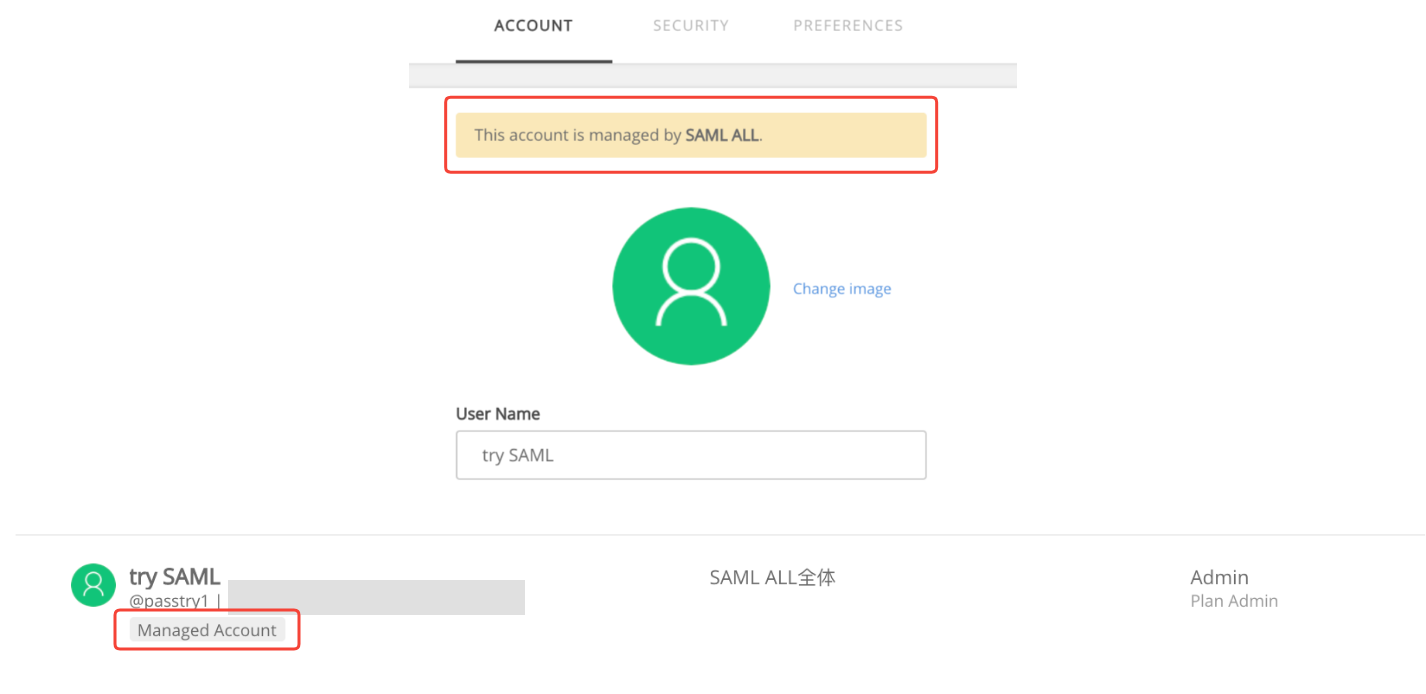 To learn more about Managed Account and its differences with Nulab Account, see Managed Account.
Audit Log
The audit log records users' activities and events in Nulab products within their organization. It provides a security-relevant document that assists administrators in keeping track of the organization's users in terms of who has accessed the system (/products) and what operations they have performed during a period. This log can be downloaded as a CSV file by an administrator or member role with the "Audit Log Admin" privilege.
Besides keeping track of Nulab Apps events (e.g. changes in organization settings), the audit log function also keeps track of events in other Nulab products: Backlog, Cacoo, and Typetalk.
To learn more about the audit log settings and operations, refer to the support articles on Audit log settings and file and Download audit logs.