​​What is organization?
Your Organization is comprised of the individuals and teams working in Nulab's collaborative apps to achieve their goals.
Whether your team is using just one or all of our apps, your Organizations Administrator will be able to manage members, teams, permissions, subscriptions, and billing information within the Organization Settings system.
Manage organization profile
As an administrator, you can manage your Organization Profile on the Organization Settings page. To access Organization Settings, go to global navigation and select your organization icon.
Update profile
To update your organization profile, go to Organization Settings > Profile. On the Profile page, you can find the details below.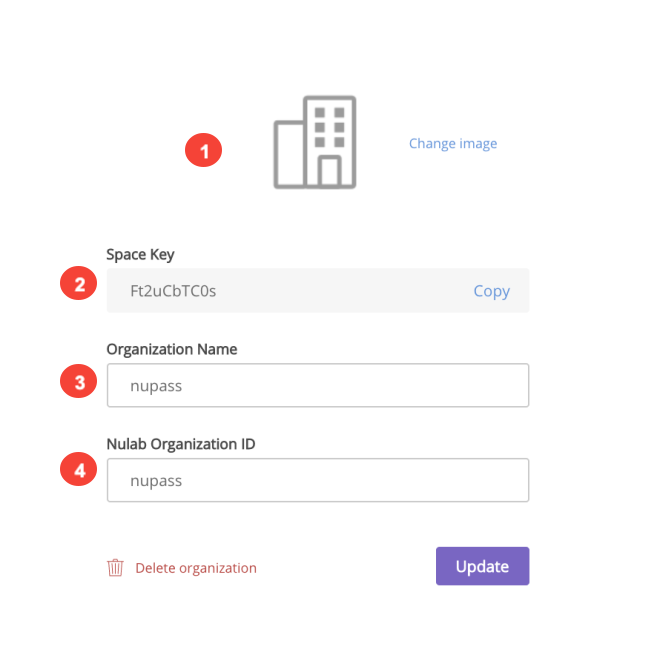 Organization profile image


To change profile image, click

change image > attach an image file > Done > Update

.




Copy Space Key


The space key is a 10-character unique ID generated for your Nulab organization, and it is not changeable by users. To copy your Space Key, click on

Copy

.




*Space Key is required when you apply for the

Nulab Pass

service.




Organization Name


The organization name can be updated at any time by administrators. To update,

input the Organization name

and click

Update

to apply changes.




Nulab Organization ID


If you are a

Nulab Pass

user, you can update your Nulab Organization ID. It is a unique ID that Nulab Pass users use for SAML single sign-on login for Nulab cloud products.




To update,

input the Organization ID

and click

Update

to apply changes.





Please refer to the

Nulab Organization ID

article to learn more about its settings and restrictions.
Do you know?
The organization's icon will be saved in a URL that anyone can refer to. However, the URL will be made up of a string of characters that are difficult to guess
.
Delete organization
Only Administrators or members with Plan Admin privileges can delete the organization. To learn more about user privilege and operation permissions, please refer to the user roles article.
To delete your organization, click on the Delete organization link, review the cancellation information, and click the OK button to confirm the delete process.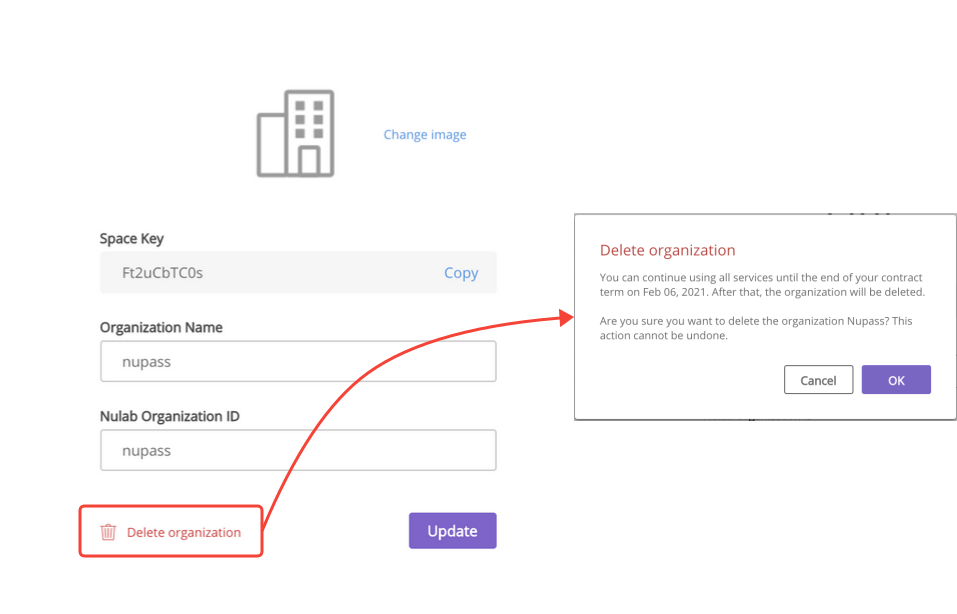 Do you know?
To learn more about when an organization or user's data is deleted, please refer to
Nulab's Privacy & Security System
page, "Condition and timing of deletion" section.