On the plan page, the plan admin can change or upgrade their plans. To access the plan page, go to:

Organization icon in the global navigation and select

Organization Settings

.

Click on the

Plans

tab
Do you know?
Administrators without plan admin privilege cannot manage subscriptions. Only the administrator or member role that has been assigned as plan admin can only manage billing and subscription.
Plan Admin
To assign an administrator or member as plan admin, on the organization settings plan page: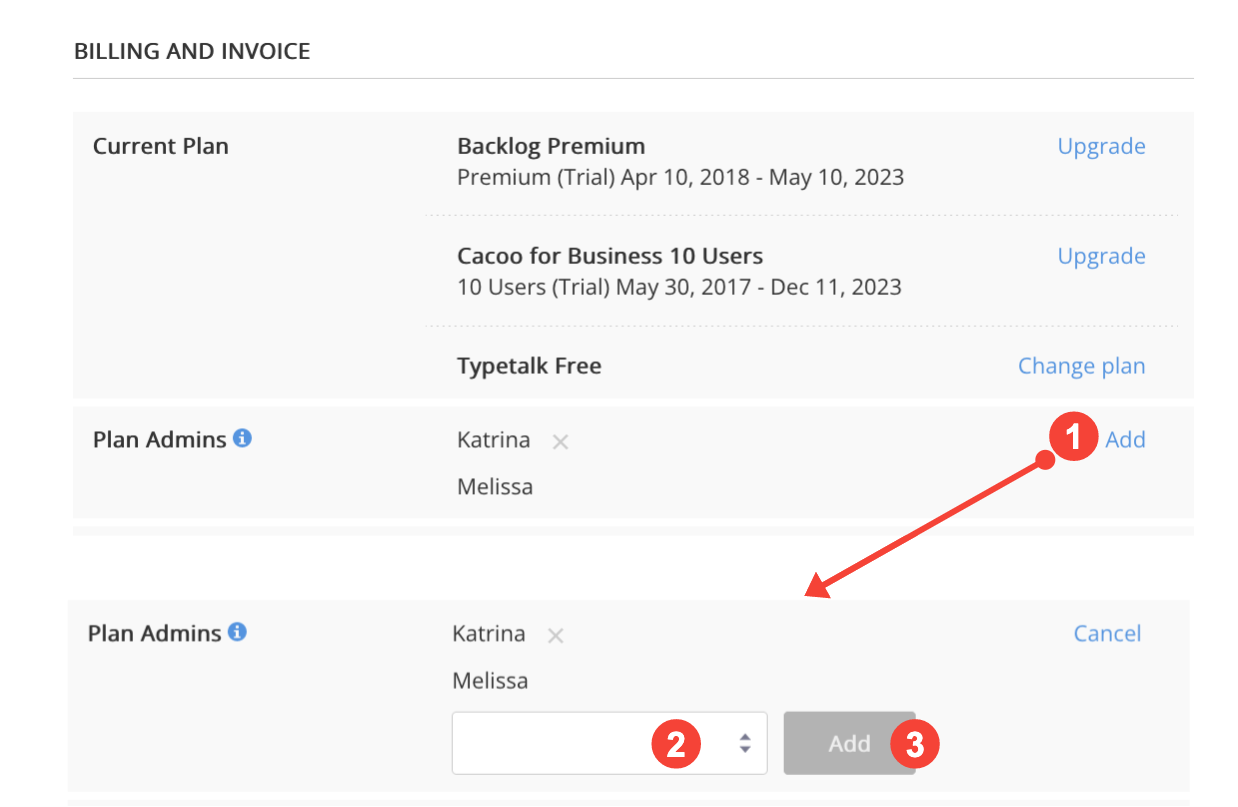 Click

Add link

on the Plan Admins section.

Click the

search box

and select the member you want to assign as plan admin.

Click

Add

.
Upgrade Plan
If you are currently in a trial session, you can upgrade your plan at any time. To do so:
Select

Upgrade.

Select the billing cycle, currency, and plan you would like to upgrade and click

Next.


Fill in the details for Contractor Address or Billing Address (if it differs from contractor address) and click

Next.



On

Confirm your Plan page, fill in your credit card information. If you have a discount code, select "Enter Discount Code" to apply the discount.


Thereafter, confirm your plan and click Upgrade

.




*If you are using a credit card that supports Payer Authentication (3D secure), you may need to authorize your credit card (password, OTP, etc.) in order to make the payment.
Nulab Pass has a different pricing structure for subscriptions compared to other Nulab cloud products. To learn more about the details, please refer to upgrade your Nulab Pass.
Change Plan
If you are currently in a free plan or paid plan, you can change your plan at any time. To do so:
Select

Change plan.



Select the new plan that you wish to change to and click

Next.



Confirm your plan changes, verify customer information and select your and click

Change Plan

.




*You can click

Change

to change your contractor and billing address or select

New Card

to use another new card to make the payment.
If you are subscribing to Nulab Pass, the change plan process will be different compared to other cloud products. To learn more about changing your plan for Nulab Pass, please refer to change plan.
Important Notes:
The trial plan cannot be changed once the trial has started. If you would like to try other trial plans, you may use your current registered email to create another trial.

Upgrading during the trial period will not affect or shorten the trial period.

When upgrading from the trial, you have the option to choose a different plan.

When upgrading from an existing free plan, there will not be a trial period.

Data in your space will not be deleted when you upgrade your plans.

Changing your plan can be done during your contract period.




- New plans will start at different dates depending on upgrading or downgrading.




- In some services, the paid plan cannot be downgraded to a free plan.
Details

Upgrade

Downgrade

New plan

On the same day

Next payment period (*2)

Price change (*1)
*1 Date of which credit card is charged.
*2 If you've paid for the next period, the downgraded plan will be the following period after that. For example, if you've been charged for March, the plan downgrade will be in April.
On the same day of changing plans, the difference between the plans will be charged to your credit card.