Only administrators can invite new members to the organization, manage their roles, and assign them to a team.
Invite new users to the organization
To invite new users to the organization: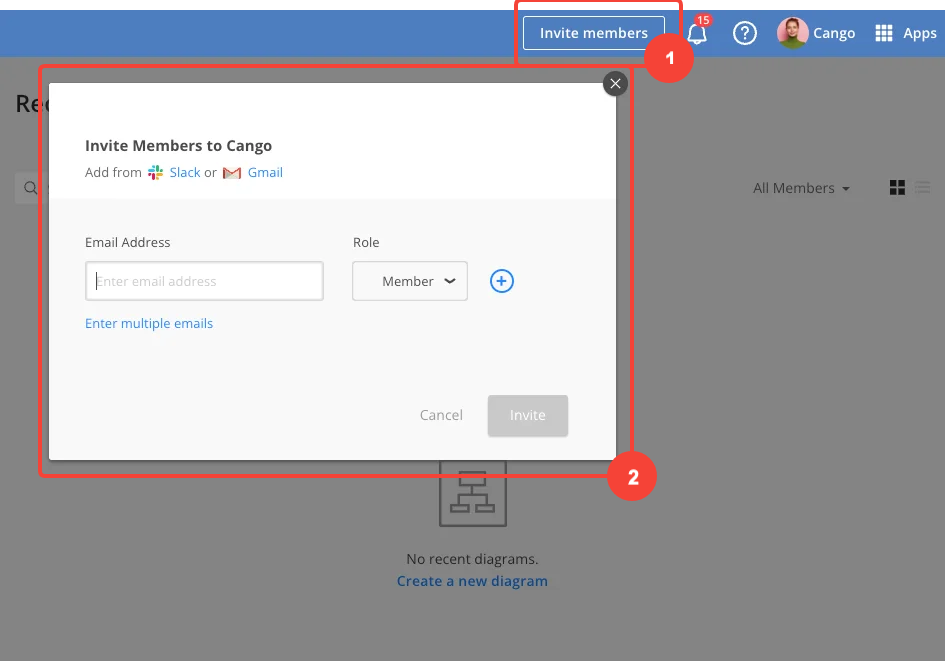 Click

+ Invite Members

from the top global navigation.

An invitation screen will appear. Select the type of invitation you wish to proceed with or enter the user email address and click

Invite

.
Did you know?
Only the administrator can see the + Invite Members button from the global navigation. If you are a member role with "can invite members" privilege, you can only invite new users from the organization members setting page.

Users you invited will appear on the list of members with an attention icon indicating that the invitation will expire within 7 days. This icon will be removed once the user accepts the invitation.
Member roles
Member roles determine what users can do in the organizational space. Below listed are the roles with their permission within Cacoo.
Administrators
manage folders and diagram access and ownership, regardless of whether they are a member of the folder or owner of the diagram
Members
do not have administrator privileges or guest restrictions

can share diagrams in the folders they belong to.
Guests
can perform most of the operations that members can

cannot be set as a folder administrator

cannot create folders
Teams
Teams can be used to manage multiple members at once. It can be used to invite or change the roles of multiple members at once instead of handling members separately. Since a team can be used for multiple folders, an organization member can be a member of all folders related to the team. Teams make sharing organizational diagrams easier.
When a user is added to the Folder both as an individual and as part of a team, the individual user role will be applied.
When a user is not added as an individual but with multiple teams, the highest role will be applied.
Please refer to this article to learn more about creating a team in your organization.