Sticky notes are an effective and easy to use tool that let users record or highlight their important information or even ideas quickly. In Cacoo, you can find the sticky notes function available on the tool menu and easily add them to your diagrams.
How to add sticky notes
You can add sticky notes via the tool menu.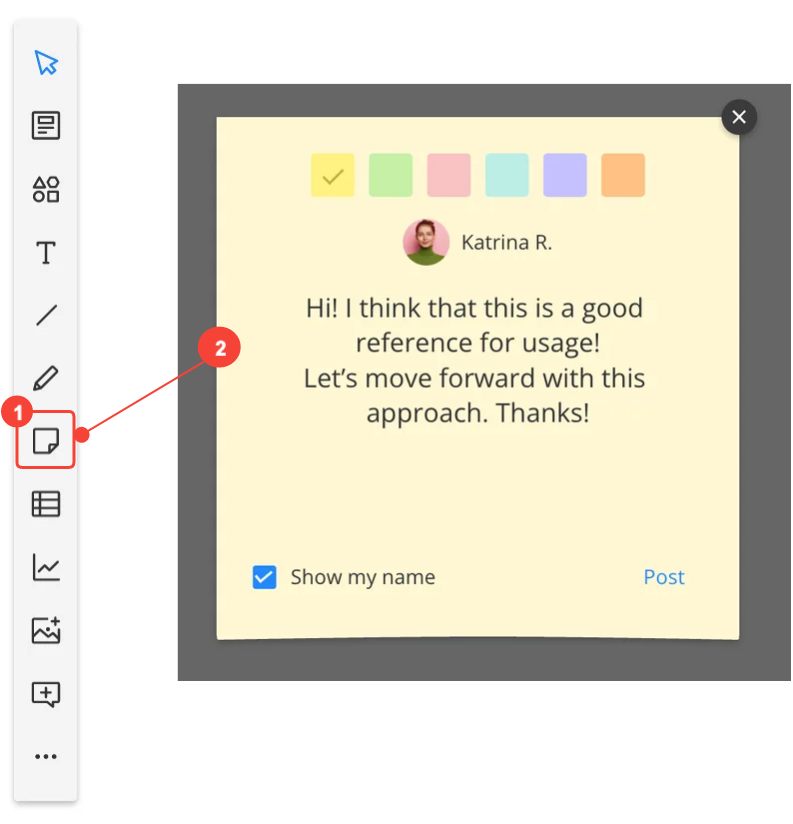 Go to Tool menu > Sticky Note.
A sticky note creation prompt will pop up. Input your text

in the sticky notes and press

Enter or Add

to post the sticky notes on the diagram.

To end the function, select X to close or exit the prompt.
Useful tip!
You can select different colors while inputting your text.
Sticky note shortcut commands:
1. Press Enter to post a sticky note.
2. Press Shift + Enter for a line break.
3. Press Shift + Tab to switch sticky notes color.
After you add a sticky note, the creation prompt remains and you can continue to input more text.
After adding sticky notes to your diagram, you can change their styles and text formatting by selecting the notes and editing them via the editor menu.
To learn more about the editor menu in the diagrams, please refer to the Editor overview article.
Toggle avatars on/off
Toggle on avatars to show the author's profile icon and nickname on the sticky note.
Useful tip!
Anyone who has the permission to edit the diagram can toggle avatars on/off.

The avatar will show the user that most recently edited the note.
Before adding sticky notes
To toggle off avatars, uncheck "Show my name" at the bottom left of the prompt.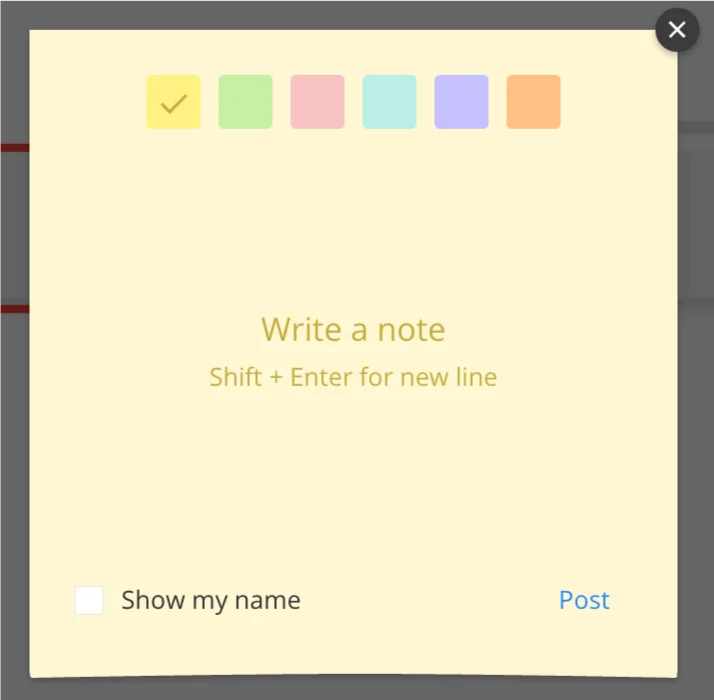 Useful tip!
You can create a sticky note without an avatar by unchecking "Show my name" and adding no text.
Click the "Author" button in the menu to set yourself as the avatar.
After adding sticky notes
Select the sticky note that you would like to toggle the avatar for, then click the "Author" button in the floating menu.