Plan admins can view and download the payment receipts, add notes for receipt, and change contractor or billing address on the organization settings plan page.
Add notes for receipt or invoice
If you wish to add additional information to the receipt (e.g., VAT ID), you can add them in the "Notes for receipt," and the information will be reflected in the receipt Note section.
To add notes: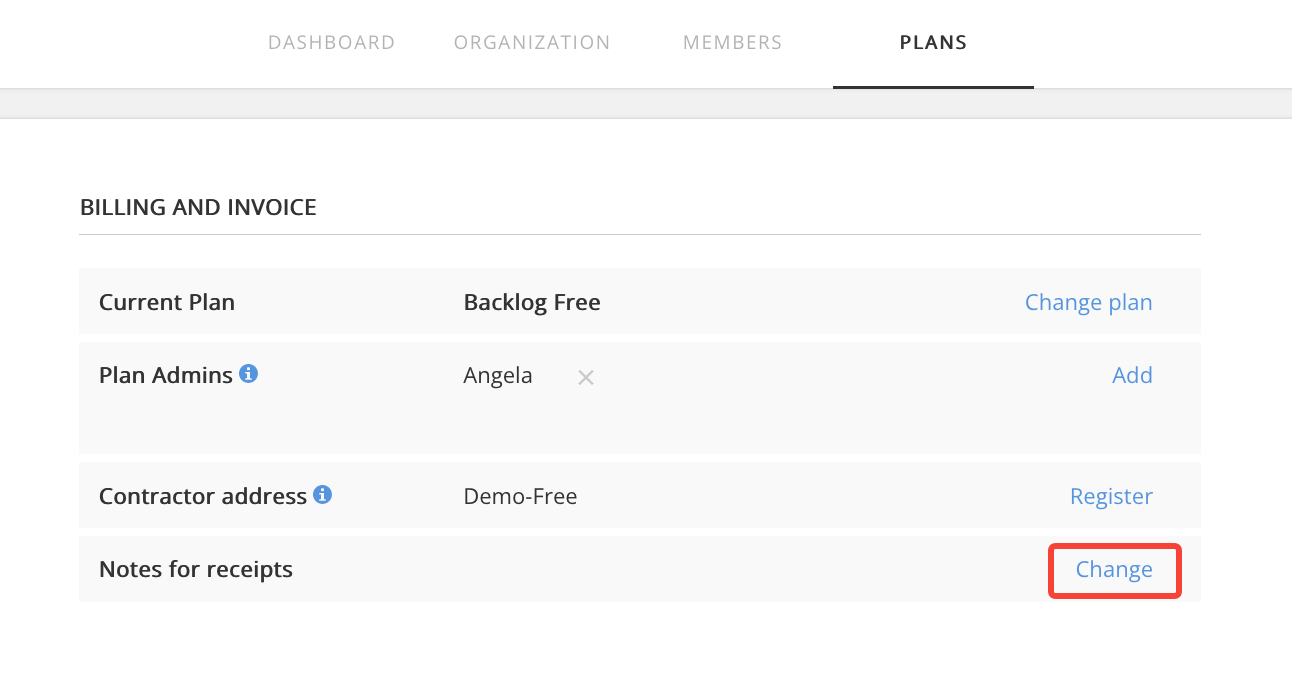 Click on

Change link

in the "Notes for receipts" section.

Add in your notes and select

Update

to save.
View and Download Payment Receipts
We will send the payment receipts to all plan admins based on your billing cycle (monthly or yearly).
You can view all your payment details and download the receipts from the Organization's Plan page.
To download the receipts:
Click on

View all invoices

at the Last Invoice section.





On the View Invoices page, select

Download.


Do you know?
Invoices are not issued for credit card payment users. Only receipts will be issued for credit card payment users.
Update contractor or billing address
Plan admins can register or update the contractor and billing address on the organization's plan settings page.
To register or update the address:
If you are the first time editing the contractor address, click

Register

at the contractor address section




To update your current address, click

Change.



Enter the details accordingly. If the billing address is different from the contractor address, uncheck the "Same as contractor address" and update the address accordingly. Click

Change to apply the changes.


Do you know?
The billing address will be used to reflect on the receipt if the user has set the billing address. If not, the contract address will be reflected on the receipt.